Rain Gutters Products & Options
At Menehune Raingutters, we specialize in seamless 5, 6 or 7 inch K-style gutters. We also offer ½ round zinc and copper gutters for a higher-end look. We have been serving clients on Kauai for over 10 years and guarantee the quality and timeliness of our work.
Custom-Bilt Continuous Rain Gutter Systems
Menehune Raingutters specializes in designing and installing Custom-Bilt Continuous Rain Gutter Systems. Continuous rain gutters offer the most efficient way to channel and drain rainwater. High-quality seamless metal gutters by Custom-Bilt Metals catch all roof runoff and carry water to downspouts without leaking or dripping. Unlike pieced gutters, there are no unsightly seams to catch debris.
The aluminum and steel gutter products by Custom-Bilt Metals are finished with Dura Coat XT-10. The surface of Dura Coat XT-10 is hard and strong, so it lasts long and resists scratching, fading, salt and pollution. The coating is exceptionally tough, yet flexible enough to be embossed and easily take a 1-T bend in roll forming. Over a dozen colors to choose from. We also offer copper systems for a traditional, elegant look and Zincalume® Plus for a contemporary look.
Gutter Styles Available
Gutter Color Options
Colors shown here approximate finished colors as accurately as possible. However, colors may vary, and will also appear different on aluminum than they do on steel. Actual color samples on the appropriate metal choice are available upon request.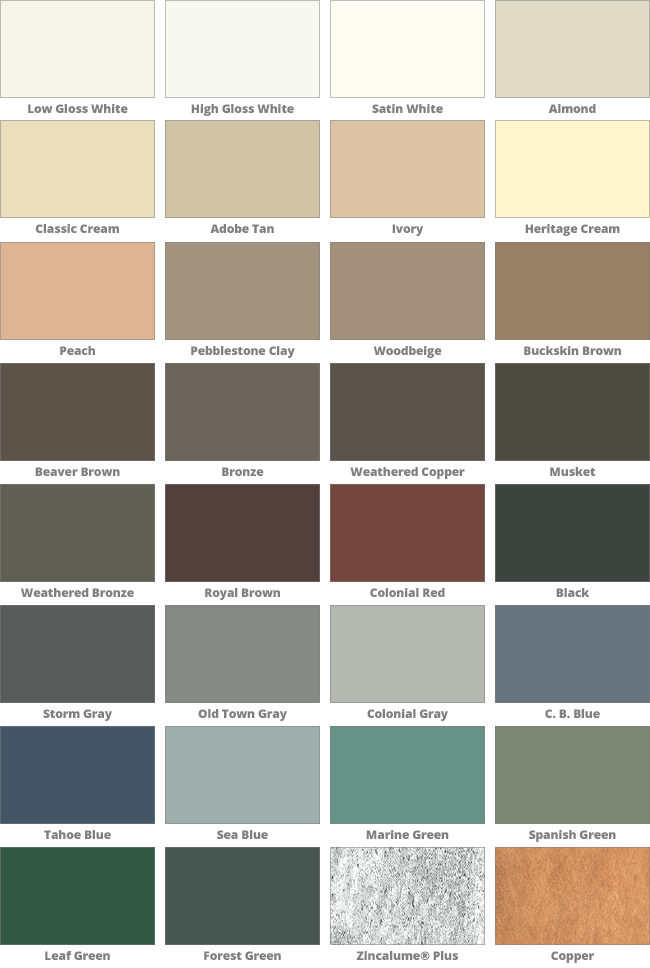 World Gutter Systems
Menehune Raingutters also offers the World Gutter System. The World Gutter System is the highest quality and most economical roof drainage system. With perfectly fitting pieces, the World Gutter System is also the easiest to install. This copper rain gutter system offers not only exceptional strength and durability, but absolute beauty and design. All of World Gutter Systems' components are also available in zinc — a beautiful, less costly alternative to copper.
Call us today to schedule your "Free Estimate" appointment to measure and discuss your home's specific needs. We guarantee our work for a minimum of 1 year, and could be longer depending on the product purchased.
We provide removal and installation service island-wide and are also happy to repair and maintain any gutters we install for the life of the gutters (fees may apply for gutters out of warranty).